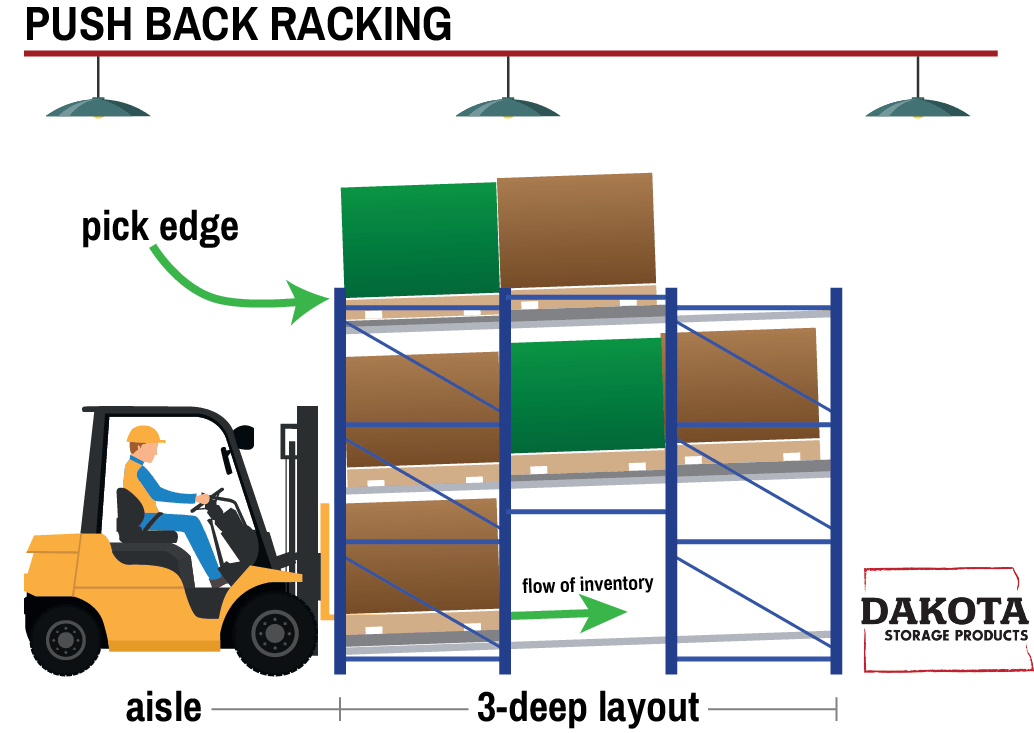 Push back racks work exactly like they sound: they push pallets "back" as more pallets are stored in front. Each pallet is retrieved from the front, much like a PEZ dispenser. As a forklift removes the front pallet, the back pallet slides toward the front. This is due to a cart and rail system underneath each pallet. When the forklift returns, the next pallet is at the front: ready to be removed.
Push-back carts can go 5 pallets deep. We typically suggest not going any deeper, as the forklift has to "push back" more weight the deeper you go. This puts more strain on your equipment. The biggest reason our customers love push back racks is for the space efficiency. A push back rack system can save massive amounts of space in a warehouse. It can support a large number of SKUs. Warehouse owners will often swap out their legacy Drive In Racking systems for push back racking due to improved selectivity.
How push back racks work (step-by-step)
Push back racking systems work on a last-in, first-out (LIFO) basis. This means the first pallet you place on a push back racking system will be the last pallet you remove. A forklift places the first pallet on the front edge of the push back racking system, where it rests on a wheeled cart. Other pallets are stacked in front, resting on rails that have a slight tilt towards the front. The pallet is used to push the other pallets backwards and set in place. When a pallet is unloaded from the pick face, the pallet behind will automatically begin sliding to the front. Forklift drivers will use the pallet on their forks to slow the slide of the next pallet.
Pallet is placed on the first wheeled cart of the push back rack system.

Second pallet is used to push first pallet back, with the first rack (blue) riding on the rails.

Both pallets rest in place.

When inventory needs to be accessed, a forklift driver removes the last pallet in and uses it as a "brake" to slow the slide of the first pallet.

The front pallet is now removed, with the original pallet resting safely on the pick edge.

Benefits and drawbacks of Push Back Rack
Every type of racking has advantages and disadvantages. It is important to understand the ideal ways to use each type of racking to get a better idea of what would be best for your warehouse.
High volume use-cases
Push back racks are excellent for high volume warehouses. The "stacking" nature of push back allows you to store more pallets in a smaller area. This is why push back racks get the reputation of being the "high-density storage" option for warehouse owners.
Good for limited floor space scenarios
Customers will often use push-back when there is limited floor space but have multiple pallets needing to be stored.
Few aisles needed
The pallets can be stacked up to 5 deep per lane, allowing you to have less required aisles.
Saves time
Forklift drivers do not have to remove pallets to get to a rear pallet.
Reduces damage
Because forklift drivers do not have to enter the rack (as they do with Drive In Racking), there is a lower risk of damage to the pallet rack system.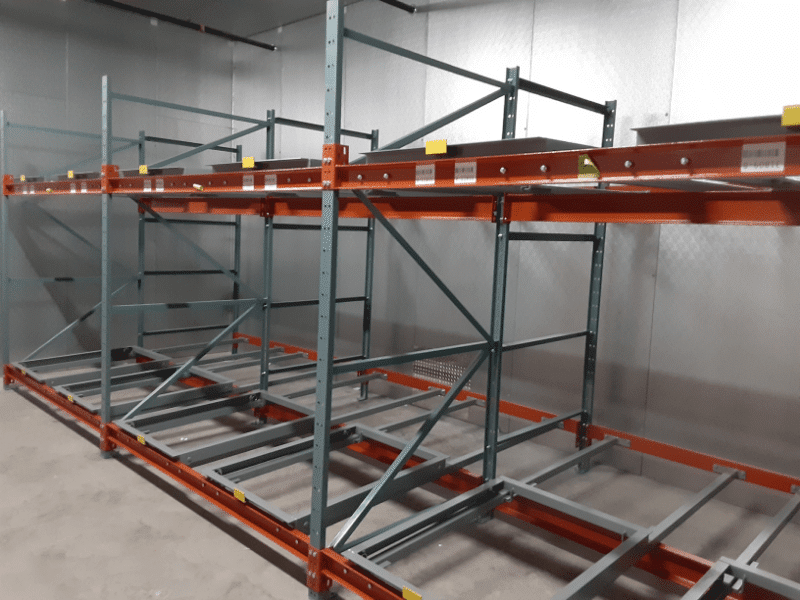 Expiration date issues
Will NOT work with inventory that needs to be rotated due to expiration dates (due to first-in, last-out nature of this racking)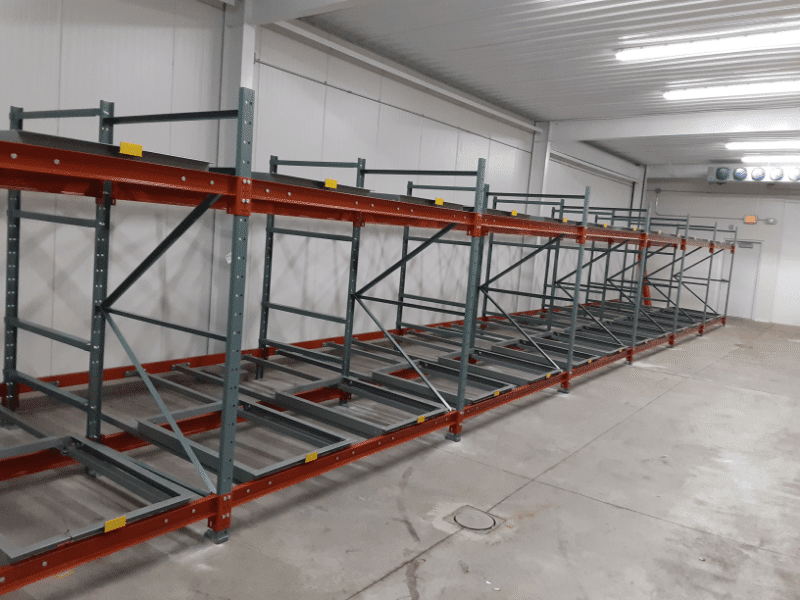 Optional FIFO (first-in, first-out) design
Normally, push back racks only operate on a FILO (first-in, last-out) basis due to their design. However, push back rack systems can be designed to operate with a FIFO design. The rack systems are placed between two aisles, with one side being the front loading side, and the other side is used to remove inventory. This is an uncommon setup because it requires more space within a warehouse – but it is an available option for building owners who are interested in using their push back rack in this manner.
Push back rack brands and products carried

Ridg-U-Rak Push Back Rack
The push back rack designed by Ridg-U-Rak comes with patented design features and industry-leading quality. Carts are linked together with a dynamic "cart-on-rail" system developed by the engineers. They add large coated wheels with sealed bearings to the design, allowing for smooth operation. Carts come with anti-lift-out devices to prevent the system from breaking down due to user-error.
These racks can hold up to the standard load of 3,000lbs.

SpaceRak Push Back Rack (by Heartland Steel)
One of the products we proudly carry is SpaceRak Push Back Rack. Their products are purpose built to fit the application: in this case, creating one of the best racking options available to warehouse owners. They strive to meet all manufacturing standards and code requirements, giving you peace of mind when selecting a racking brand. Their push back racks are designed with the quality and rigorous standards set by the engineers at Heartland Steel.
Push back racks are considered quite safe and easy to use, even for beginner forklift operators. It is still important for warehouse managers and workers to understand the racking purpose, performance limitations, and optimal loading/picking strategies.
Pallets should be loaded at least one inch above the racking footplate. Forklift drivers should keep the forks level as they enter the loading area. Each pallet should be centered on the wheeled cart, allow it it to slide up and down the flow path with ease.
Due to the design of the push back rack rail system, a pallet rack is on a free-flow slide at all times. When a pallet is removed from the front, the entire line of stored pallets will flow in the direction of the slope. Forklift drivers should use the rack on their forks to "brake" the entire line of pallet racks. This will prevent the racks from tipping off the edge.
Push back rack is named after the stacking mechanism of the system: pallets are "pushed back" onto the racking system one-by-one. When a pallet is removed, the next pallet falls back into the first pallet's place. This is due to the cart and rail design of push back racks.
Push back racks are considered one of the easier pick systems for new forklift drivers. Since the operator does not have to enter the rack structure at any time, they can focus on centering the rack on the cart.
Push back racks are normally considered "first-in, last-out" (FILO) storage options. Pallets are loaded from the front of the system AND removed from the front of the system. There are ways of making push back racks a "first-in, first, out" system. By having two aisles on either end of the system, inventory can be added on one side and removed from the other. This is not the common practice, however.
405 WEST MAIN AVE

-

WESTGO SQUARE

-

WEST FARGO, ND 58078
(701) 281-1209

(800) 252-6401

Fax: (701) 277-0239
Hours
Mon - Fri: 8:00 am - 5:00 pm
Sat: By appointment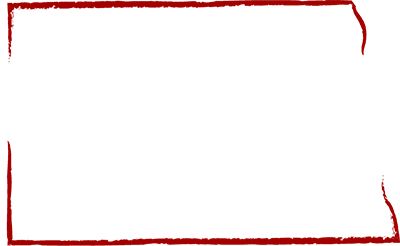 Pallet Racking & Storage Products dealer serving North Dakota, Minnesota, South Dakota, Montana, and Wyoming.
See all Locations & Areas Served.